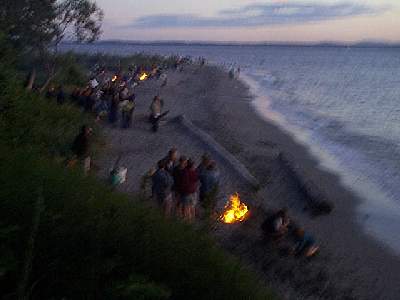 Three years ago, Golden Gardens was my first view of Seattle as I rode in just after sunrise on Amtrak's Empire Builder, sitting with new-met James, who told me that Seattleites have 26 different words for clouds, and the clouds over the Sound that morning were spectacular.

A few weeks ago, I discovered a perfect place to watch trains at the end of the beach, a nest of boulders just below the railbed where I watched a mile-long freight slowly round the curve, wheels shrieking. I had to cover my ears, and I felt 150 years of history roll over me, like ocean waves or thunder.

Today was solstice, and the beach was packed, except for at the end, which is a longish walk and thus never very crowded, and near my train-watching nest was a memorial to Mary Katherine Nelson, a 20-year-old who died walking along the tracks. I thought of my sister's 8th grade friend, daughter of my elementary school's principal, Mr. Luff, who got hit by the LIRR, 20 some odd years ago and I still remember her name: Stacey.

I settled into my nest with bamboo flute to await the next freight train, surprised to see teenagers and older with drinks in hand still walking the tracks along the blind curve. "Be careful," I say, "Someone got hit the other day." "This has been my modus operandi for eight years," one guy says, "I think I'll be OK." "Stay lucky," I say.

Not long after, the whistle blows, and I'm surprised when just 5 seconds later the silent Amtrak hurtles around the corner, headlights flashing, whistle blowing, and I see how someone could be caught off guard, the way the whistle echoed, perhaps not even knowing from which direction the train was coming.

The memorial is there as a warning, with a number to call in case it's ever removed. I stored it in my phone under the dead girl's name, but it doesn't matter--people choose not to see it, anyway.