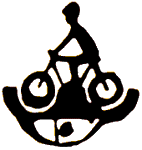 Got this one from Adbusters. Very popular.
Designed for me by Scott Cocking.
This is actually the result of two screens, one for each color. Getting the screens in exact same position is called registration. This is easier to do if you make the frames for screens exact same size. Then you can mark or build guides to align screens one after the other.