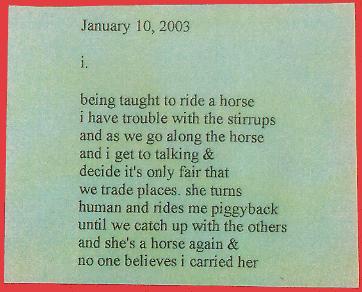 a handcut excerpt, the human crooked line

Riding some kind of creative high from last night
but wanting a break from the computer, I finally
got around to printing out the Big Book of Dreams
and took the pages down to Sarah's studio where
I cut out phrases and passages and taped them
into place on sheets of red paper I'd happened to
find. The dreams were printed on the backs of
leftover AUTOBIOANTHROPOLOGRAPHY flyers,
pale green. I had intended to photocopy a few
in black and white, but once I saw the contrast
I decided to make 2-sided color copies of the
booklet's 6 sheets. It's slick, shiny, and bright.
Edition of 20, 12pp, signed, numbered, $10 ea.,
mail order only: 3955-B Fremont Ave N, Seattle
WA 98103. Int'l orders add $5. Pleasant dreams!